Email Newsletter
Want great Myrtle Beach articles, events and deals sent straight to your inbox? Sign up for our newsletter today!
Thanksgiving Festivities in Myrtle Beach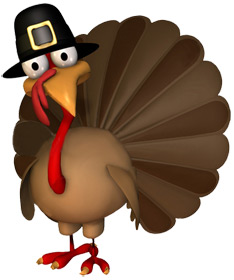 Thanksgiving in Myrtle Beach has been a popular long-standing tradition for many visiting families and continues to grow year after year. Featuring a wide variety of restaurants, and select resorts, serving Thanksgiving dinner... Myrtle Beach offers plenty of delectable choices for a great Thanksgiving feast. And now, a growing host of other activities along the Grand Strand make Myrtle Beach the perfect Thanksgiving weekend destination!
Myrtle Beach offers a wide variety of exciting, world class entertainment that will get you into the Christmas spirit. Our favorite shows are Alabama Theatre's
"The South's Grandest Christmas Show"
and the Palace Theatre's
"Christmas on Ice"
, which both offer their own unique blend of traditional Christmas carol classics and contemporary holiday favorites.
For the shop-a-holics in your group, Myrtle Beach has no shortage of amazing shopping deals as "Black Friday" specials begin on Thursday night at midnight and run all weekend long. Myrtle Beach offers a wide variety of amazing shopping centers ranging from outlet and discount shopping at Tanger Outlets, popular department stores and mall shops at The Coastal Grand Mall, The Myrtle Beach Mall, and unique shops at Broadway at the Beach, The Market Common and Barefoot Landing. Christmas festivities kick off with special tree lighting ceremonies at Broadway at the Beach on November 20th and Market Common on November 26th.
With all of the holiday cheer that Myrtle Beach offers during Thanksgiving weekend, it's easy to see why the Grand Strand has become an annual tradition for so many families and friends. With such affordable accommodation rates this time of year, we want to invite you to Myrtle Beach this Thanksgiving!
Check out Our Thanksgiving Feasts:
Beach Colony
Share a special Thanksgiving with family and friends at our customary Thanksgiving Buffet Dinner. The feast will include an array of traditional dishes including Roasted Turkey with Gravy, many traditional side dishes, and a variety of salads. Diners can also enjoy Baked Oak Ham and Sliced Roast Beef. The feast ends with a delicious variety of pies and cakes including pumpkin, peach, pecan, carrot, and chocolate. Reservations Suggested.


Beach Cove
This is the place to gobble down Thanksgiving dinner. Plenty of traditional and non-traditional favorites will be served at this buffet style feast. Highlights include Roasted Turkey, Pork Roast, Catch of the Day, and a variety of salads and sides. We even decked out the dessert bar with Pumpkin Pie, Cheesecake, Chocolate Cake, Cream Pies, and Bread Pudding. So if you don't want to fight with cranky relatives over oven space, come and enjoy our buffet. Reservations suggested.


The Caravelle Resort
We are adding a touch of the "Seashore" to our Thanksgiving Day Feast. We will be serving all the traditional items from Deviled Eggs to Mashed Potatoes and Gravy, along with a Smoked Salmon tray, Seafood Chowder, Seafood Salad and Grouper Picatta, and of course, all the cake and pie you can eat. Reservations Suggested.


Landmark Resort
Join us for a bountiful harvest of Thanksgiving Favorites. Enjoy this all you can eat buffet featuring an array of traditional favorites like Roasted Tom Turkey, and sample some new twists on your old favorites like a slice of Sweet Potato Cheesecake. Be sure to ask your server about the best part of the Thanksgiving Feast - the left overs! We'll be offering prepared boxes to take with you so you can enjoy 'Round 2' during the big game or the next day! Reservations Suggested.


Ocean Creek
Thanksgiving is just around the corner and we are getting ready preparing for our famous traditional Thanksgiving day feast, which is the perfect way to kick off a great weekend of shopping and other fun in Myrtle Beach. The Four Seasons Restaurant at Ocean Creek will once again be hosting the best Thanksgiving buffet in town on Thursday, November 25th from 12 pm - 4 pm. Let us do the cooking! Reservations Suggested.


Sea Watch Resort
It wouldn't be fall without the joy that comes from being with friends and family. Relax this year and let us do the cooking. Join us for our Thanksgiving dinner that includes a variety of traditional fare. Buffet includes Roasted Tom Turkey, London Broil, Pork, Salmon, Ham, and a variety of salads and sides. Not only will you enjoy a great meal, but we'll do the dishes!


Leave a Reply
Related Entries
Back to Blog